We keep up-to-date with the financial press and new legislation
Financial news
Our quarterly newsletter helps you keep up-to-date with the latest financial issues and developments.
When you sign up for our newsletter you will receive emails full of useful information to help you manage your personal or business finances. If you would like to be included in our mailing list, simply click the link below and we will make sure that you receive the next issue straight to your inbox.
To sign up for our newsletter, please email office@leamanmattei.com.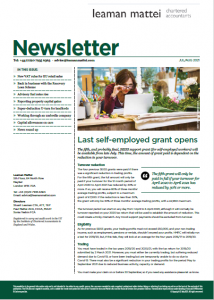 April 2022 Newsletter

In this issue:
Making the most of business reliefs
Managing rising employment costs
VAT claims on electric cars
Directors' loan accounts
Eviction law set to change
Simplified probate reporting
Closing tax loophole on second homes
News round up
Download the April 2022 newsletter here
As usual, there is plenty of information in the newsletter to absorb, so let us know if you'd like more information on any of these topics – we'd love to hear from you.
Get in touch if you need help or advice on any of the topics covered.
We are always seeking new talent, so get in touch if you would like to be part of our team