We keep up-to-date with the financial press and new legislation
Financial news
Our quarterly newsletter helps you keep up-to-date with the latest financial issues and developments.
When you sign up for our newsletter you will receive emails full of useful information to help you manage your personal or business finances. If you would like to be included in our mailing list, simply click the link below and we will make sure that you receive the next issue straight to your inbox.
To sign up for our newsletter, please email office@leamanmattei.com.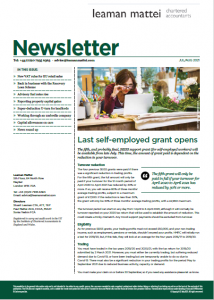 Summer 2021 Newsletter

Last self-employed grant opens
The fifth, and probably final, SEISS support grant (for self-employed workers) will be available from late July. This time, the amount of grant paid is dependent on the reduction in your turnover.
Other topics we're covering include:
New VAT rules for EU retail sales
The EU has extended its mini one stop shop (MOSS) to become a one stop shop (OSS) from 1 July 2021 covering a wider range of supplies.
Back in business with the Recovery Loan Scheme
If your business needs financial support as you recover from the pandemic and grow, the government's Recovery Loan Scheme (RLS) is still available to help.
Advisory fuel rates rise
HMRC has increased the advisory fuel rates by 1p from 1 June 2021 for all petrol vehicles.
Reporting property capital gains
The online system for reporting capital gains on residential property is creating difficulties for taxpayers. The latest problem may lead to some investors paying too much tax.
 And lots more….
Download latest quarterly newsletter here>>
As usual, there is plenty of information in the newsletter to absorb, so let us know if you'd like more information on any of these topics – we'd love to hear from you.
Get in touch if you need help or advice on any of the topics covered.
We are always seeking new talent, so get in touch if you would like to be part of our team