We keep up-to-date with the financial press and new legislation
Financial news
Our quarterly newsletter helps you keep up-to-date with the latest financial issues and developments.
When you sign up for our newsletter you will receive emails full of useful information to help you manage your personal or business finances. If you would like to be included in our mailing list, simply click the link below and we will make sure that you receive the next issue straight to your inbox.
To sign up for our newsletter, please email office@leamanmattei.com.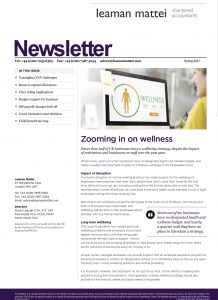 Spring 2021 Newsletter

Zooming in on wellness
Fewer than half of UK businesses have a wellbeing strategy, despite the impact of restrictions and lockdowns on staff over the past year. Alarmingly, seven out of ten businesses have no designated health and wellness budget, and nearly a quarter said they have no plans to introduce a strategy.
Other topics we're covering include:
Untangling VAT challenges
VAT has been in the spotlight as businesses continue to struggle with the post-Brexit VAT regime. The Covid-related deferral for VAT payments is one bright spot, but there is also the delayed introduction of the
Boost to capital allowances
One of Chancellor Rishi Sunak's Budget surprises was a new super-deduction for investment in plant and machinery.
Gig economy implications of Uber ruling
The Supreme Court judgment that Uber drivers are workers has wide implications for the gig economy.
Budget Support for business
Large tax rises over the next few years, as well as extensions of the shorter-term support for people and businesses, were key themes of the March Budget. Encouraging business growth was another aim.
 And lots more….
Download latest quarterly newsletter here>>
As usual, there is plenty of information in the newsletter to absorb, so let us know if you'd like more information on any of these topics – we'd love to hear from you.
Get in touch if you need help or advice on any of the topics covered.
We are always seeking new talent, so get in touch if you would like to be part of our team